2019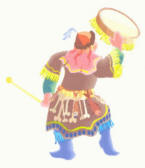 PATH OF THE OPEN HEART - SESSION 2
Upper World: Teachers and Guides, Cosmology of the Shaman
with Kate Durda
April 13, 2019 10 am to 5 pm
Ann Arbor, Mi

Continue to explore the Shaman's Cosmology of Upper/Middle/ and Lower Worlds (aka the "Universal Field", "Dreamtime" , "Non-Ordinary Reality", etc). In this session you will experience the "Upper World' (UW). a realm of spiritual enlightenment and truth, and the realm of spiritual teachers/masters/guides. Learn cross-cultural healing ritual for self; re-member more about your True Self, and who you are in this lifetime, discover and/or strengthen your working relationship with your U.W. teachers.

This program Path of the Open Heart, provides a solid foundation in the powerful spiritual path of Shamanism. For those who have had only an introduction to Shamanism, to those who've explored some, still have yet to deepen practice, to those more advanced as well!

This series will allow you to truly come to understand what the spiritual practice of Shamanism has to offer to our everday lives! Shamanism IS "practical", useful, helpful, healing - just as it has been for over 40,000 years!! Come learn why it still exists as one of the most practical and powerful spiritual practices known. Shamanism is also a PRACTICE! You get from it what you put into it..as with anything powerful and significant! For beginners or experienced alike, this series offers deep experiential practice, and is an expanded version of the apprentice training program, which I have offered annually for over 10 years.

***Pre-requisite of this series is experience with the "Shamanic Journey' as taught by the Foundation for Shamanic Studies or one of their students or taking "Shamanism: Path of Empowerment and Healing" as taught by Kate Durda. Call us to discuss your experience.

About the The PATH of the OPEN HEART: This series is called the PATH of the OPEN HEART, after the program which I have taught for the past ten years as a Shamanic "Apprenticeship" training.
These classes are useful for beginners, intermediate practitioners, and advanced alike. The series covers the core practices in Shamanism other than advanced healing methods. Those are offered separately, to the advanced/experienced practitioner. The Path of the Open Heart series will prepare those of you interested in pursuing the healing path.
Note: the Path of Open Heart Series classes are "stand alone", you can take one or both (of course, we recommend all of them for a solid foundation in beginning shamanism, but you can pick up what you miss at other times!).
Each session may also include work with basic practices such as creating sacred space, altars, medicine bundles, ethics in spiritual practice, working with the seasons (solstice, equinox), spirits of the land, and more! In addition, cross-cultural practices will be included. I have worked with Buryat, Tibetan, Celtic, Andean and Native American shamanic practices, among others, which will also inform and complete our work together.

TO REGISTER: $95 early registration if received by April 5th; $110 after that date and at door. For information on how to register for this workshop click here. If you are taking this class again, cost is $35.

The Shamanic Journey Circle: How to start one, how to participate in one.




with Stephanie Tighe, and Kate Durda


Location: Rudolf Steiner House

1923 Geddes Ave., Ann Arbor Time: 6pm -8:00pm

Cost: $15 (this includes handouts as well)

advance registration, after that $22.

At this workshop:




1)we will provide some written resources on Drumming/journey circles from the Foundation for Shamanic Studies, and other sources;




2) share our experiences in sponsoring a Journey Circle in the Lansing area from 1995-2014.




3) lead the group in a 'journey circle' experience so you know what to expect




4) provide you with info on existing journey circles in Michigan




5) solicit contact info/description on any journey circles you know of that are open to new members.

6) share documents from existing Journey Circles re 'expectations', guidelines, ethics, etc.




7) for those of you interested in starting a circle, we can discuss follow-up to provide collaboration and support to you.


TO REGISTER:

Must be registered to attend. Contact us!

We kindly request your RSVP no later than 5pm Thursday April 11th if you plan to attend. I will let those who commit to attending know as soon as I know it's a "GO". Please help us and others who would like to attend by letting us know ASAP before the due date, so we can determine if there is sufficient interest to hold this class.

Registering late? then email us to 'register' and let us know.




Click here to get registration info.

8th and Final Celtic Gathering with Tom Cowan
April 25-28, 2019
Pierce Cedar Creek Nature Center, Hastings, Mi.

Tom has decided to retire and this means that this will be his final reunion and prehaps his final teaching. Please join us as we celebrate Tom and his teachings. This workshop is only open to those persons who have previously studied with Tom.
Information on content of the event will follow.
TO REGISTER:

Workshop begins with dinner on thursday evening at 6 pm and concludes with lunch on sunday. Cost for a single is $825 and for a double cost is $795. For more information on how to register for this workshop click here.
Shamanism: Path of Empowerment & Healing
with Kate Durda in Lansing, Mi at Woke Studio
Saturday, June 8, 2019 10 am - 5 pm
Shamanism is an ancient and powerful spiritual practice utilized throughout history and still today to restore spiritual and physical health and obtain self-knowledge. The Shamanic Journey has been called one of the "most remarkable visionary methods used by humankind to explore the hidden universe otherwise known mainly through myth and dream". Groundbreaking work in fields such as the 'new biology', quantum physics, and alternative medicine are validating what shamans and other wise spiritual healers knew and practiced thousands of years ago. We know that the mind/body/spirit connection is of vital importance not only in helping us to heal from illness, but beyond that, to truly 'thrive' and live in a state of 'wellness'.
This will be an experiential workshop, based upon the Foundation for Shamanic Studies (www.Shamanism.org) "Core Shamanism" approach (those aspects of Shamanism that were common cross-culturally, and central to all Shamanic practice). You will learn a practice to shift your your brain wave activity into more optimal states for healing. The benefits of one type of brain activity, the alpha brainwave, are the ability to relax and keep the mind on idle when not focused on specific task, heightened feelings of well-being and euphoria, increased creativity, and deep emotional healing. Yet it has been found that 20% of the population does not engage in alpha brain waves. Also, another benefit of shamanic practice is that it allows us to engage in deep levels of self-healing, particularly on the subconscious level. You will learn methods for journeying to discover, and study with your own individual spiritual teachers in non-ordinary reality, a classic step in shamanic practice.

TO REGISTER: $75 early registration if received by 1/30/19; $85 after that date and at door. To register for this workshop contact Woke Studio at https://wokestudio.org/
Must be pre registered. Must call if not paid in advance.
Path of the Open Heart:
Spirits of Nature




with Kate Durda




June 15, 2019

Saturday




Grand Ledge, Lincoln Brick Park

In this workshop you will gain deeper experience with one of the core practices of Shamanism, working with Nature Spirits! We will spend considerable time OUTDOORS.




Among the experiences you will be guided in:




Meet and merge with Nature Spirits, to learn about the teachings they have
Work in both the Lower and Middle Worlds, how to navigate safely in the MW
Explore Plant Spirit Medicine
Partner with Nature spirits to learn a divination method of inquiry to obtain direction or answers to questions
Explore Augury: reading the signs in Nature, to foretell what will come




Learn an element balancing healing method in partnership with the four elements (Earth Air Fire Water)




Re-experience the PEACE and Healing that naturally occurs when communing with Nature.




Enjoy the company of a group of wonderful folks who care about LIFE. Deepen your spiritual practice, stretch your spiritual capacity... to live well, and walk in balance!
TO REGISTER:
$85 early registration if received by June 8; $95 after that date and at door. No exceptions, so please register early to assure there is room!
For information on how to register for this workshop
Repeat fee - $35.
11TH ANNUAL SHAMANS WALK & Healing Ceremony
July 27, 2019


*Open to experienced Shamanic practitioners




We first experienced the Shaman's Walk years ago with Canadian friends in Windsor, Canada & Brenda Atkinson, who initiated this event. We attended several Shaman's Walks over the 'border' and always found them to be a powerful personal and community event!





With this "Walk", we celebrate our connection to each other and all things with intense drumming, dancing, journeying, sharing and networking. You are welcome to come with an open heart and a desire to experience the ecstasy of a large Shamanic Community.



This setting of a shamanic cmmunityof heart-centered folks holding space for each other for the 'walk' is PHENOMENAL. Power-full, soul-satisfying, and very helpful to providing the experience that can be had with longer, deeper journeys. |
If this is your first time considering this event, you may not be sure what will happen at a "SHAMANS WALK". This is not a workshop or training. This is a powerful opportunity to practice together in community! Carrying out our spiritual practice to become who we are meant to be.... who we are becoming! We will support each other in the quest of Oneness and Light and Love.
For the pre-gathering at 11 am, please if you wish, bring some snacks to share and socialize, while browsing hand crafted shamanic items, new/used rattle or drums, shamanic art and crafts, books, etc.

We don't know what surprises folks will bring this year!



Please Bring:

Item for Empowerment Altar that you would like to have filled with power by the Spirits
Drums & rattles if you have them (bring extras to share with others if you would)
A cushion & blanket for sitting & lying down on the floor (chairs available)
Notebook, pen, drawing material if desired
Shamanic tools (masks, robes, prayer sticks, medicine bags, stones etc. *Shamanic regalia for those who have it, honors the Spirits and aids in deepening connections with them)
Eye covering (Siberian mask, scarf, bandanna, etc.)
Wear comfortable layered clothing and slippers/socks (we will walk without shoes)
Personal bottled water
A sack lunch for yourself
Finger food or beverage to share for after the healing ceremony (cheese, veggies, crackers, nuts, fruit, chips, goodies)
Bring any flyers or business cards you may want to share with others.
We'll have drums, rattles, CD's, books, medicine bags, jewelry and other goodies for sale too!



***Pre-requisite of this Walk is experience with the "Shamanic Journey' as taught by the Foundation for Shamanic Studies or one of their students or taking "Shamanism: Path of Empowerment and Healing" as taught by SpiritWeavers. Call us to discuss your experience if you have questions.

TO REGISTER: $50 for early registration if paid by July 20th (this includes parking pass). After this date the cost is $65. If you are intersted in having a table to sell items please contact us by 7/15. After this date tables will not be available. To register for this workshop click here.
Medicine for the Soul in the Wake of Abuse
with Jean Chagnon PhD, Lp
Mt. Olivet Conference and Retreat Center in Farmington, MN.
August 1-4, 2019
Healing the impact of abuse, trauma, and violence is work that shamans have done for centuries. Shamans help individuals who experience abuse or survive traumatic events by recovering lost soul parts, releasing energies that became lodged in their energy field during or after the experience of trauma, and clearing ancestral or soul lineages that carry trauma imprints. Shamans help communities that have endured traumatic experiences by holding ceremonies to restore harmony and by transforming generational trauma. Modern shamanic practitioners join this long legacy of healing work on behalf of those who have experienced abuse and trauma. However one of the challenges that contemporary shamanic practitioners can have is translating ancient techniques to the realities of modern practice. This can be especially true when working with clients who have a history of childhood abuse.
For more information visit: http://anamaura.org/medicine-for-the-soul-shamanic-training/


Circles for Shamanic Journeying in Lansing. We are once again starting up the Shamanic Drumming Circle in Lansing. Call for location - 517 667-8448.
Circles for Shamanic Journeying in Charlotte
Prerequisite for attending is the completion of an introductory workshop in core shamanic journeying. In the Shamanic Journeying Circle, we build upon the journey skills we have and deepen our connections to our power animals and teachers.



There are Circles for Shamanic Journeying all over Michigan. Contact us for more information on a Circle near you!.
Contact Spirit Weavers, Kate, or Stephanie - SpiritWeavers@gmail.com