Kate and Stephanie
SPIRIT WEAVERS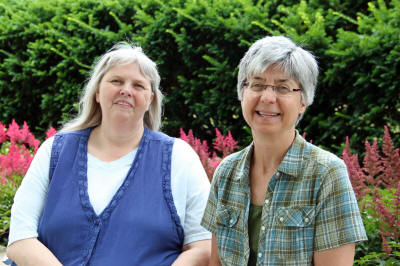 Kate and Stephanie
Kate and Stephanie have taught throughout the U.S. and in Canada. They also offer shamanic healing services. They are co-founders of Spirit Weavers, an organization devoted to providing experiential training in Shamanism, and offering shamanic healing to those interested.
Kate Durda, MA, is a developmental psychologist, shamanic practitioner, and educator and graduate of the Foundation for Shamanic Studies Three Year Program in Advanced Shamanism and Shamanic Healing (taught by Dr. Michael Harner and Sandy Ingerman). She has studied various cultural forms of shamanism, including Inca (Q'ero-Peru); Celtic; Tibetan; and Buryat (Russia); as well as some Native American practices. She incorporates Shamanism, Esoteric Healing, and Reiki in her work. Kate is a current board member of the Peace Education Center( PEC), an organization devoted to peace activism. She has taught/presented shamanism in many settings from children's groups to the elderly, and both nationally and internationally including presenting at the Conflict Resolution Conference in St Petersburg, Russia.
Stephanie Tighe, M.S.W., has an advanced degree in social work, is a shamanic practitioner, and a graduate of the Foundation for Shamanic Studies Three Year Program in Advanced Shamanism and Shamanic Healing with Dr. Michael Harner and Christina Stack. She has received training in various shamanic, spiritual, and meditative traditions from around the globe since 1973. Stephanie also led a shamanic journeying group inside two Michigan state prisons.
Stephanie & Kate
Additionally, Stephanie and Kate received training from Sandra Ingerman to teach Medicine for the Earth, her ground breaking new work based on her book of the same title. They are graduates of the first Two Year Shamanic Teacher Training Program, taught by Sandra Ingerman. Also with Myron Eshowsky, Stephanie and Kate were founding board members of PATHWAYS Foundation for Peace and Healing.
Kate and Stephanie have organized and led Shamanic Journey Circles since 1990 (Steph), and 1996 (Kate) and they currently host a Shamanic Journey Circle in Lansing. They actively encourage and support the development of Journey Circles around the state. They also lead ceremony and ritual for the public, including Feast of the Dead Celebration, and Winter Solstice.
They provide a continuum of training from introduction to shamanism to an advanced three year program. Training includes apprenticeship, residential and non-residential short and long term formats. Please see our current and past workshops for more information. They also serve in consulting/supervision of interested shamanic practitioners as well.