Spirit Weavers is an organization dedicated to providing shamanic healing and experiential training in Shamanism. We are located in Michigan, with programs offered in mid-Michigan, and within and outside of the state.
This organization was founded by Kate Durda and Stephanie Tighe in 1997. They offer shamanic healing work, teach workshops in the United States and Canada, provide training in healing techniques, and work to create shamanic community. They also bring some of the top teachers of shamanism to Michigan.

They are members of:
Kate was recently interviewed by the Crazy Wisdom Bookstore. The article, "Feminine Face of God" can be found in the Crazy Wisdom Community Journal, May-August 2019, issue 72: http://www.crazywisdomjournal.com/featuredstories/2019/4/22/the-feminine-face-of-god-in-ann-arbor
for her other interview visit our Resources and Books page.
Upcoming Workshops/Events
Check our workshops page for information on all events.
11th Annual Shamans Walk & Healing Ceremony
July 27, 2019
click here for more information
Spirits of Nature
September 28, 2019
click here for more information
A workshop from a colleague:

Medicine for the Soul in the Wake of Abuse
with Jean Chagnon PhD, Lp
Mt. Olivet Conference and Retreat Center in Farmington, MN.
August 1-4, 2019
click here for more information
ONGOING

EVENTS
Monthly JOURNEY CIRCLE
There are many circles in Michigan. Please contact us for information on one in your area.
---
Shamanic Healing
Kate and Stephanie have provided healing to hundreds of persons and are available for healing sessions, both in person and long distance. To see if you could benefit from Shamanic Healing or if you just want a "tune up" give us a call. If you are not sure if you need a healing or not you may want to read some of our articles to aid you in determining if Shamanic Healing could help you.
For articles click here!
ART of SPIRIT & LIGHT!
Spirit Weavers, Kate and Stephanie, are happy to create for you
items of spirit and light to enhance your spiritual practice
and to promote "Lightness of Being".
Handcrafted Rattles, Spirit Bags, Drums & more
See below for more info!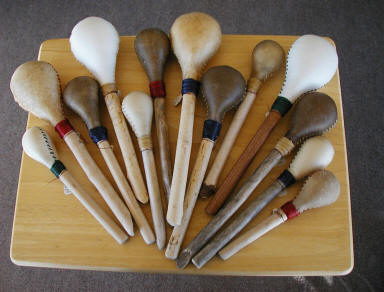 Kate Durda, M.A. & Stephanie Tighe, MSW, are shamanic practitioners who have offered shamanic healing as well as training for the past 15 years. For their own use, as well as for their students and others in the shamanic community, Stephanie and Kate began handcrafting tools for use in spiritual practice. They create drums, rattles, personal "Spirit Bags", and more.

RATTLES and Spirit Bags for Sale! Can also be made to order
To order rattles or spiritbags, please contact us by phone or email us with your interest !
**** If interested in a Rattle Making workshop, let us know.
When we have enough interested folk, we'll schedule it ! ***

SPIRIT BAGS
"Spirit Bags" are made in necklace fashion using 'knotless netting' technique and waxed linen thread. These bags are used as personal medicine bag, with totems and power objects attached and placed inside bag. Please see our website for description and availability of all items.
RATTLES
Rattles /Drums are handcrafted with choice of hides: cow, elk, deer, moose. We can do individual personalized items incorporating materials, designs, or elements which you want used in the making, upon request.
We also can do handpainting of rattles and drums to your specification. All gifts from the animal/plant spirits honored in the creation of these spiritual tools. Honoring Ceremonies are shared.
WORKSHOPS: Rattle-making, Spirit Bags
Rattles are very important shamanic tools, used for ceremony, calling the Spirits, healing work and journeying. Making your own tools for spiritual practice is very powerful, and a wonderful way to strengthen your connection to the Spirit World.
We offer workshops on making your own rattles and other personals spiritual items such as "Personal Altars" or "Prayer Cards". Check our website, it changes often!

Be sure to check back often as we regularly update and make additions to this site!